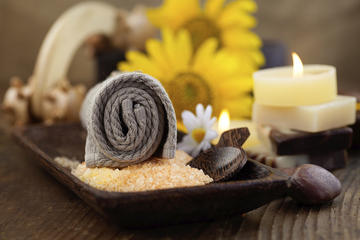 In this day and age, relaxation is a huge part of self-care. An overall health and wellness plan no longer just consists of diet and exercise, but mindfulness, stress relief and even more emotionally-focused aspects like therapy and meditation. For the body to be working at its best level, each part of the body must also be working at its best level. One of the ways society has really stepped up to provide this is by the gym and spa model of fitness centers. This means that not only can you work out at the facility, but you can also access spa services, often included in your membership or for a much more discounted rate.
Because people are so busy and stressed most of the time, this is a great model that helps to encourage more gym memberships which, in turn, encourages people to invest in their own health and wellness.
Here are a few of the most popular spa treatments people are opting for at their gym:
Sauna- Saunas are a great way to remove toxins from the body, promote sweating and help clear the lungs. Many people say that with regular use, saunas can decrease muscle soreness, improve skin condition and elasticity and even help with respiratory issues.
Hot tub- Who doesn't love a hot tub? A soak in a hot tub post workout can be super soothing and relaxing to the muscles. This can decrease soreness the next day and help you prep for you next workout. Another great thing about hot tubs is that they are very calming as well. It is a great place to wind down after a long day and proves to be good for your overall mental clarity and wellness.
Massage- Massages are perhaps the best way to provide wellness to both the mind and body. Deep tissue massages release tension in the muscles, help with soreness and can stimulate blood cells in the tissue which can help with overall recovery. In addition, massages help with headaches, stress, tension and more, all of which can contribute to poor mental health, bad workouts and poor health in general.
Facials and skin care- Because people sweat at gyms, it is easy for them to get clogged pores, acne and more. To combat this, facials at Matrix Fitness and Spa can provide soothing skin care treatments to help clear breakouts, nourish the skin and boost confidence.
Waxing- The more fit people get, the more likely they are to gain confidence. This might mean that as swimsuit season rolls around, waxing becomes more popular. Spas can help remove unsightly hair from all parts of the body like arms, leg, back, chest, stomach, face and bikini area.
An overall approach to health and wellness is more important in today's busy society than ever before. When people find gyms that address more than just the fitness aspect of wellness, they will be healthier and happier people, particularly if they make time to treat themselves to some of the spa treatments mentioned above.